|
Comments

Where we've been
It's hard to believe we've already closed out our first year as a statewide FoodShare outreach program. In our first year we had a number of accomplishments worth celebrating. Most importantly, we have grown our outreach program to provide services to our friends and neighbors in all 72 counties in Wisconsin. With a statewide team of 11 FoodShare Outreach staff providing in-person assistance in 24 counties, more people are able to receive personalized assistance with their applications.
Since October 2015, the FoodShare Helpline has received over 5,400 calls with inquiries about our program including at least one call from 71 out of 72 Wisconsin counties. Our program assisted with over 850 applications and helped over 1,700 individuals gain access to FoodShare benefits over the past year. These applications were submitted by specialists on the FoodShare Helpline or with Feed My People food bank or Feeding America Eastern Wisconsin. These efforts have helped contribute 500,000 meals for our friends and neighbors, over $2.3 million in local economic impact, and nearly $1.3 million in direct FoodShare benefits.
The average FoodShare benefit that our friends and neighbors received with our help is also striking. Although the minimum allotment an individual can receive is $16 per month, the average allotment applicants receive with our assistance is over $100 per month. These benefits allow our friends and neighbors to purchase nutritious food at grocery stores, contributing to healthier, less stressful lives.
Statewide, our six food banks, including Second Harvest Foodbank of Southern Wisconsin, and our Helpline collectively assisted over 4,488 total applications and helped over 9,000 individuals gain access to FoodShare.
Recognizing the value of FoodShare, from a public health perspective and as a hunger-fighting tool, our food banks and Helpline utilized several outreach strategies. We distributed over 300,000 flyers to food pantries and partner organizations, and sent direct mailings to 78,000 letters to low income friends across the state. Food pantries as far south as Kenosha and as far north as Iron County are reaching out to their members and informing them about our FoodShare services.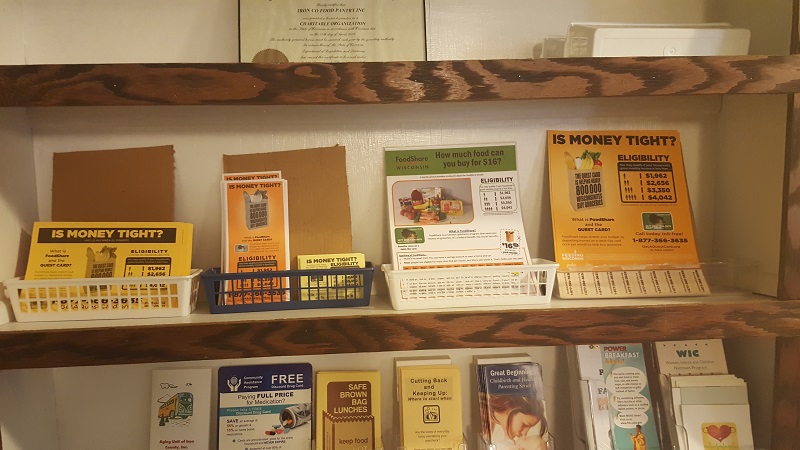 (Above: Iron County Food Pantry in Montreal, Wisconsin, displaying FoodShare Outreach flyers for their patrons)
Additionally, we continue to develop new and innovative ways to advertise our services across the state. These include enabling our Helpline staff to send text message to our program's members, utilizing online referrals, and employing other internet-based strategies. We will continue to identify the needs of our communities and adapt our outreach practices to meet their needs.
Where we're going
We are tremendously proud of our growth over the past twelve months. However, our data suggest some 50,000 individuals in the state are still in need of FoodShare benefits. Feeding Wisconsin and its participating food banks will continue to deploy a variety of outreach strategies until the need is met. We firmly believe FoodShare is the most effective anti-hunger fighting tool in our toolbox.
Our member food banks are committed to ending hunger. You will continue to see Feeding Wisconsin reaching out to new partner organizations to advertise and market our FoodShare helpline. Our friends and neighbors will continue seeing our dedicated FoodShare outreach specialists in the field talking with FoodShare members and applicants.
As we grow our program, we're looking to build even stronger statewide partnerships to spread our message, share our helpline number, and ultimately reach those in need of FoodShare.
If you would like to support the Feeding Wisconsin FoodShare Outreach program and partner with our helpline or specialists, please contact John Stuligross (608-960-4517; jstuligross@feedingwi.org).
---
Share this on social media
---
Join the Conversation