Staff
Stephanie Jung Dorfman, Executive Director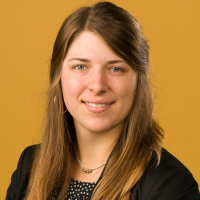 Stephanie has over five years of food banking experience, including two years managing collaborative programming of our food banks as the Feeding Wisconsin SNAP Outreach Program Manager. She is a recognized leader in the Feeding America national network, and serves as a SNAP grantee advisor and is an incoming liaison for the End Hunger Community of Practice.
Stephanie is passionate about finding innovative and impactful ways to address hunger in our state. Her role is to lead advocacy efforts, oversee statewide programming, and build partnerships to increase access to healthy food and benefits for our friends and neighbors.
Stephanie is a "Double-Badger" (a term that she only recently became aware of)—having received both her B.A. with majors in Cultural Anthropology and Human Geography and her Master of Social Work, from the University of Wisconsin - Madison. Stephanie lives on the Northside of Madison with her husband, Mike, one year old daughter, Juniper, and their Beagle, Nellie. She enjoys hiking, traveling, and attending community festivals and events.
Call or Text: 608-960-4517
Makenzie McBryde, FoodShare Outreach & Helpline Coordinator
Call or Text: 608-440-2880