|
Comments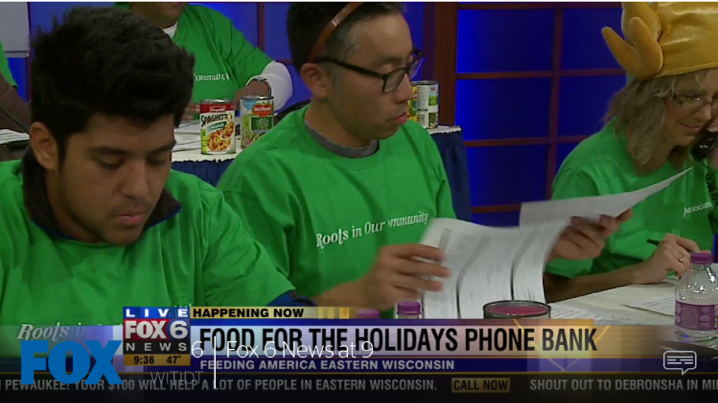 Last night, I helped to answer phones for Feeding America Eastern Wisconsin's Food for the Holidays phone bank at Fox 6. It was great to meet the volunteers, many of whom were from Associated Bank, and learn about them and their commitment to fight hunger.
Fox 6 helped to promote the fund drive throughout their evening and nightly newscast. Every time, they threw over to us, the phones would light up.
Most of the donations I processed were for small amounts. $10 and $15 donations. One was for $5. Every little bit counts. Because of our purchasing scale, our food banks are able to acquire food at much lower cost than the general public or even other food organizations. This helps to make everybody's dollar stretch and why our food banks are able to claim that every $1 donated to them results in 3 meals.
These small donations also pointed to something deeper for me: While many of the donors I spoke to may not have been extremely well off, they chose to give what they could in order to pay it forward and ensure that others in their community could have a good holiday.
That's the essence of community and the spirit of the holidays.
One caller from the night put this is unbelievably stark relief:
A call comes in and I go through my spiel about donating for the holidays and I ask how much the caller would like to donate. The man on the other line says that he is unfortunately not in a financial position to be able to make a donation and that he is calling for his dad, who is very old and in poor health.
The man asks about how we might be able to help him get a turkey for Thanksgiving. Not thinking much of it, I take his name and phone number down and tell him someone from the food bank would get back to him in the next few days.
What the man said next punched me in the gut.
He said, "Thank you so much. This is really important for me this year. My dad is 93 and this is will probably be his last Thanksgiving and I really want to be able to have a turkey for him."
Food, especially during this time of year, carries with it a lifetime of meaning. It's through these holiday meals shared with friends and family that we mark the progress in our lives. These meals remind us that we are cared for and loved and remembered.
---
Share this on social media
---
Join the Conversation