Tribal Food Security
Hunger impacts every community in the United States, yet Native Americans are more likely to face hunger. Before the pandemic, 1 in 4 Native Americans struggled with hunger - more than twice the rate of white individuals.
Feeding Wisconsin is working with Tribal partners to support programs that increase nutrition security to ensure that all Tribal members have the food that they need and desire, and Tribal food sovereignty by expanding support and capacity of Tribal producers.
Tribal Nutrition Security and Food Sovereignty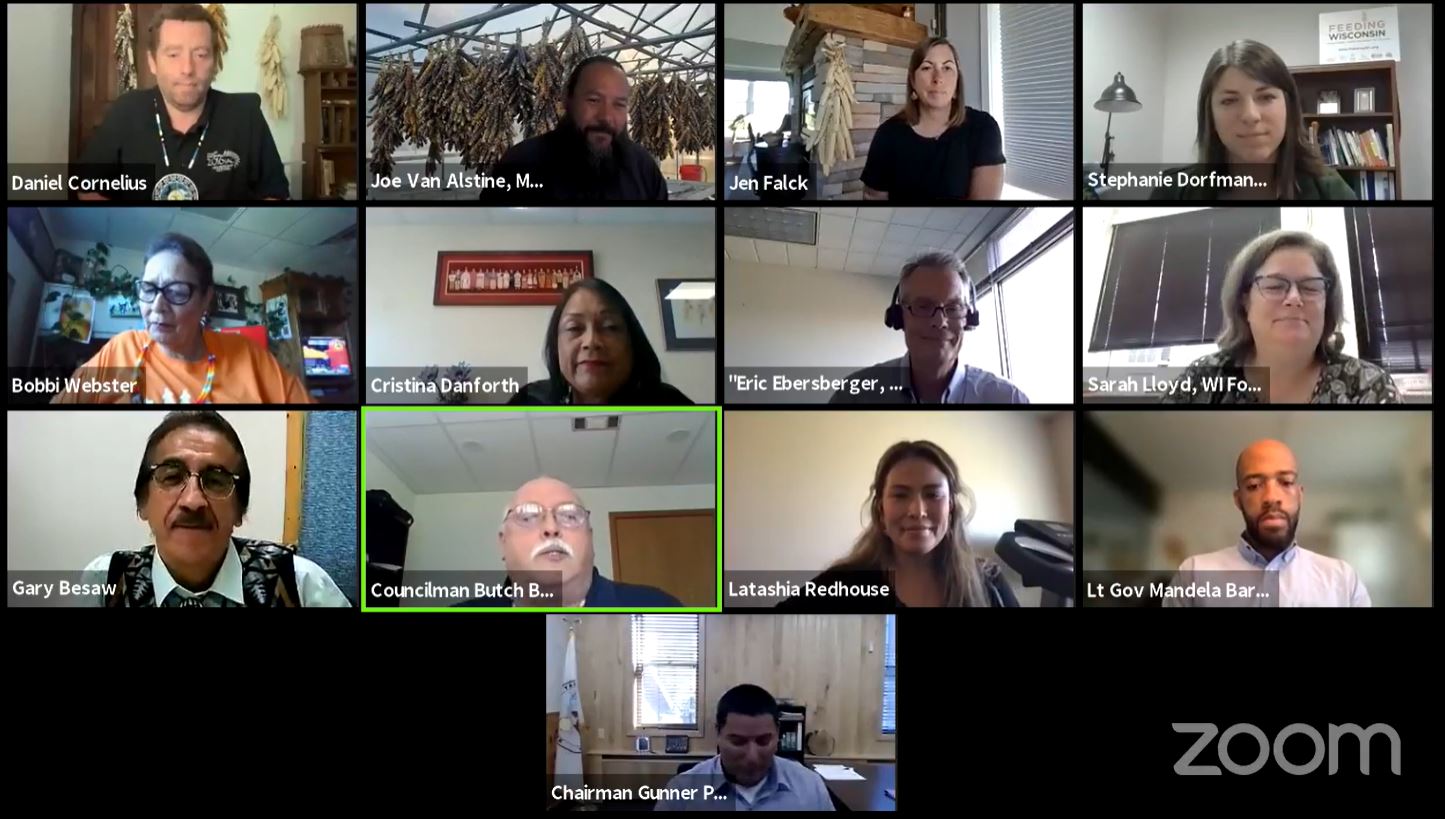 On August 13th, 2021, partners came together to celebrate and discuss the importance of several recent efforts to improve nutrition security of Tribal members and support Tribal agricultural and economic development. Partners discussed the Tribal Elder Food Box Program, Oneida and Menominee Nation's USDA Food Distribution Program on Indian Reservations 638 Self-Determination Demonstration Joint Project, and Oneida's Food Distribution Center renovations.
Tribal Elder Food Box Program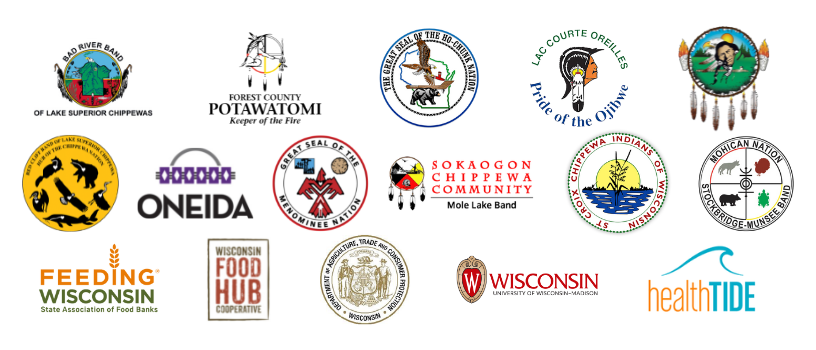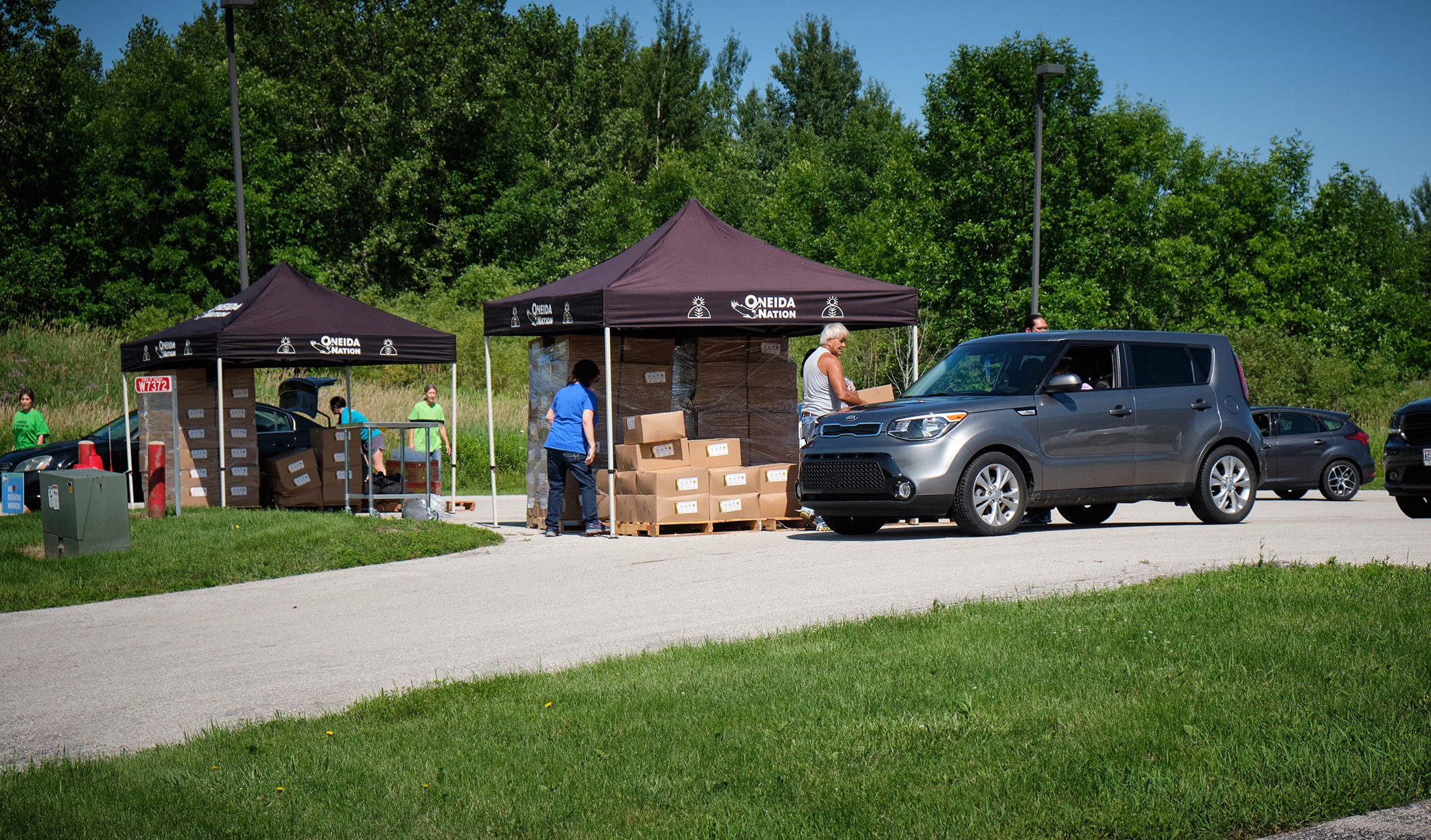 The Tribal Elder Food Box Program was inspired and implemented through a partnership between Bad River Band of Lake Superior Chippewa, Forest County Potawatomi, Ho-Chunk Nation, Lac Courte Oreilles, Band of Lake Superior Chippewa, Lac du Flambeau Band of Lake Superior Chippewa, Menominee Indian Tribe of Wisconsin, Oneida Nation, Red Cliff Band of Lake Superior Chippewa, Stockbridge-Munsee Community Band of Mohican Indians, Feeding Wisconsin, Intertribal Agriculture Council, Wisconsin Food Hub Cooperative, Department of Ag, Trade and Consumer Protection, UW-Madison, and healthTIDE. In order to increase access of Indigenous foods for Tribal Elders (Tribal members over 55 years old), Feeding Wisconsin and partners purchase foods from Indigenous-based and other regional food producers to pack nutritious, desired food boxes for Tribal Elders.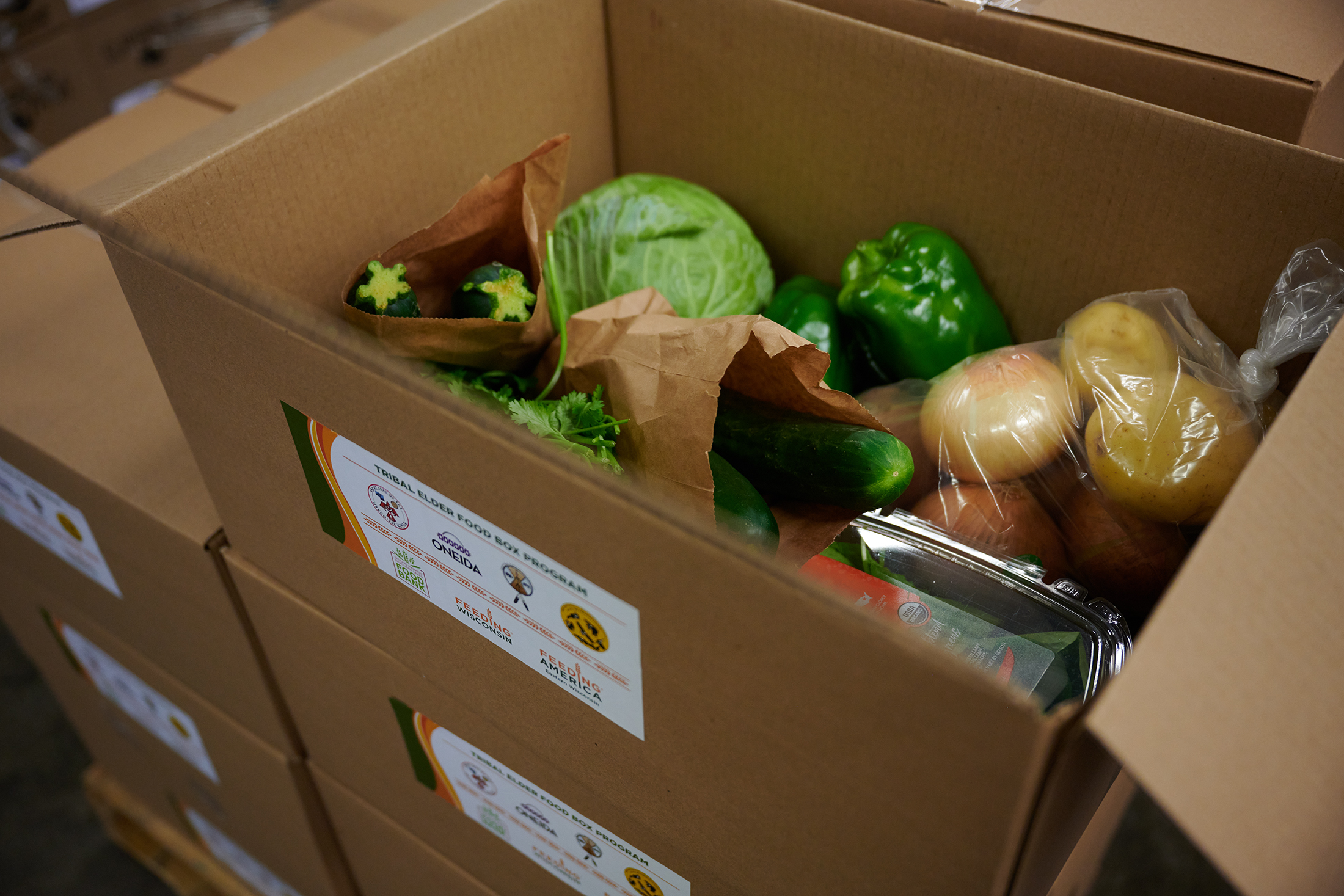 In the 2021 pilot program, 10,800 boxes (averaging 20 pounds each) were distributed to Tribal Elders of seven Tribal Nations biweekly between late June through early December. In total 192,000 pounds of produce and 21,000 pounds of proteins were included. 41% of the food purchased for boxes was purchased from Indigenous producers. The additional foods were purchased from non-Indigenous local producers. Boxes contained a combination of protein (beef, bison, fish, chicken, and pork) and produce (greens, apples, berries, corn, beans, squash, potatoes, tomatoes, and other seasonal produce) representative of traditional, Indigenous foods as desired by Tribal Elders.
WATCH B-ROLL VIDEO OF TRIBAL ELDER FOOD BOX DISTRIBUTION
The 2022 season has begun. Tribal Elder Boxes are being distributed to all 11 Federally and State recognized Tribal Nations for Elders of any Nation. 1600-1700 boxes are distributed 1-2 times a month between May and December. In the first 5 distributions, 50% of funds to purchase food have gone to Indigenous producers. If you are a Tribal Elder interested in participating in the program, please contact your food distribution office to learn more about the time and date of distribution.
Information for Elder Box Recipients
We are excited to bring these nutritious and delicious foods to you! When possible, we will be sourcing food from Indigenous and local producers and food will be representative of traditional, Indigenous foods. The contents of the boxes will change for each distribution based on what is available seasonally. The average box will be 14-16 pounds and will contain a combination of protein (meats and fish), produce (fruits and vegetables), and shelf stable items like
white corn, maple syrup, and wild rice. Each box will be accompanied by a newsletter containing weekly producer profile spotlights and recipes contributed by Indigenous chefs and home cooks. We encourage you to continue picking up these boxes as scheduled by your tribe through the first week in December.
View past newsletters here:
Week 1 | Week 2 | Week 3 | Week 4 | Week 5 | Week 6 | Week 7 | Week 8 | Week 9 | Week 10
Week 11 | Week 12 | Week 13 | Week 14 | Week 15
Elder Box Feedback:
We also welcome your feedback about the contents of the box and ways that we can improve this effort. Please share your food preferences with your food distribution coordinator and through our feedback form. Paper feedback forms will be provided in boxes and you can return at the next distribution. Or you can submit your thoughts at our electronic feedback form here.
How to Become a Producer Partner
If you are an Indigenous or non-Indigenous local producer, producing seasonal foods (produce, protein, non-perishables), and would like to learn more about becoming a producer partner please consider the following resources:
Next steps, please contact April Yancer, Farm to School Coordinator at the Wisconsin Department of Agriculture, Trade and Consumer Protection at 608-512-2950 or April.yancer@wi.gov to get connected.
Native Producer Capacity Investment Fund
Feeding Wisconsin has launched the Native Producer Capacity and Investment Fund. Feeding Wisconsin has awarding 8 producers with a total of $42,000. Awards will enable the purchase a range of equipment--a canoe to harvest wild rice, a mobile range chicken coop to expand poultry production, a potato planter and corn planter easing labor demand for spring planting, two corn washing machines that will hopefully enable quicker processing of hominy, instant corn mush, and other corn products, and more. In order to be eligible, applicants must be a Indigenous food producers who is a current or future vendor of the Feeding Wisconsin Tribal Elder Food Box program.
The application and award period for this fund is now closed. Feeding Wisconsin continues to seek additional funds to support Native producers.
Inter-Tribal Food Cooperative - Feasibility Study Request for Proposals
The collaborative working to support InterTribal Food Systems, Native Food Sovereignty and Nutrition Security has put out an RFP to secure the services of an agency that will conduct a feasibility study. The goal of the feasibility study is to determine whether the components exist at a scale to create a successful Inter-Tribal Food Cooperative. The end goal will be recommendations that can be implemented to invest in an Inter-Tribal Food Cooperative, or decide that an Inter-Tribal Food Cooperative is not feasible at this time.
Timeline for Proposal Submission and Review
RFP sent to vendors: November 1st
Clarification questions sent to Lauren Knaus: November 7th
Answers to vendors: November 8th
RFP submissions due: November 14th
Vendor interviews: November 21st
Vendor decision: November 28th
How to Contribute a Recipe for the Tribal Elder Food Box Newsletter
Are you a Native chef or home cook looking to help Elders more easily prepare nutritious, seasonal meals? We are collecting recipes made from seasonal fresh foods from the Great Lakes Region. We want easy-to-make, small-portion meals for Elders. Recipes will be shared in each Elder Food Box from May-December 2022.
If you are interested in sharing a recipe to be included, please send the following information by email to Jen Falck:
Recipe,
Photo,
Mailing Address,
2-3 sentences on why you chose that recipe, and
Your Tribal Affiliation
How to Become a Supporting Partner
If you are interested in contributing to this project we are seeking funds to round out the items included in the Tribal Elder boxes to include wild rice, maple syrup, and other traditional, non-perishable items.