|
Comments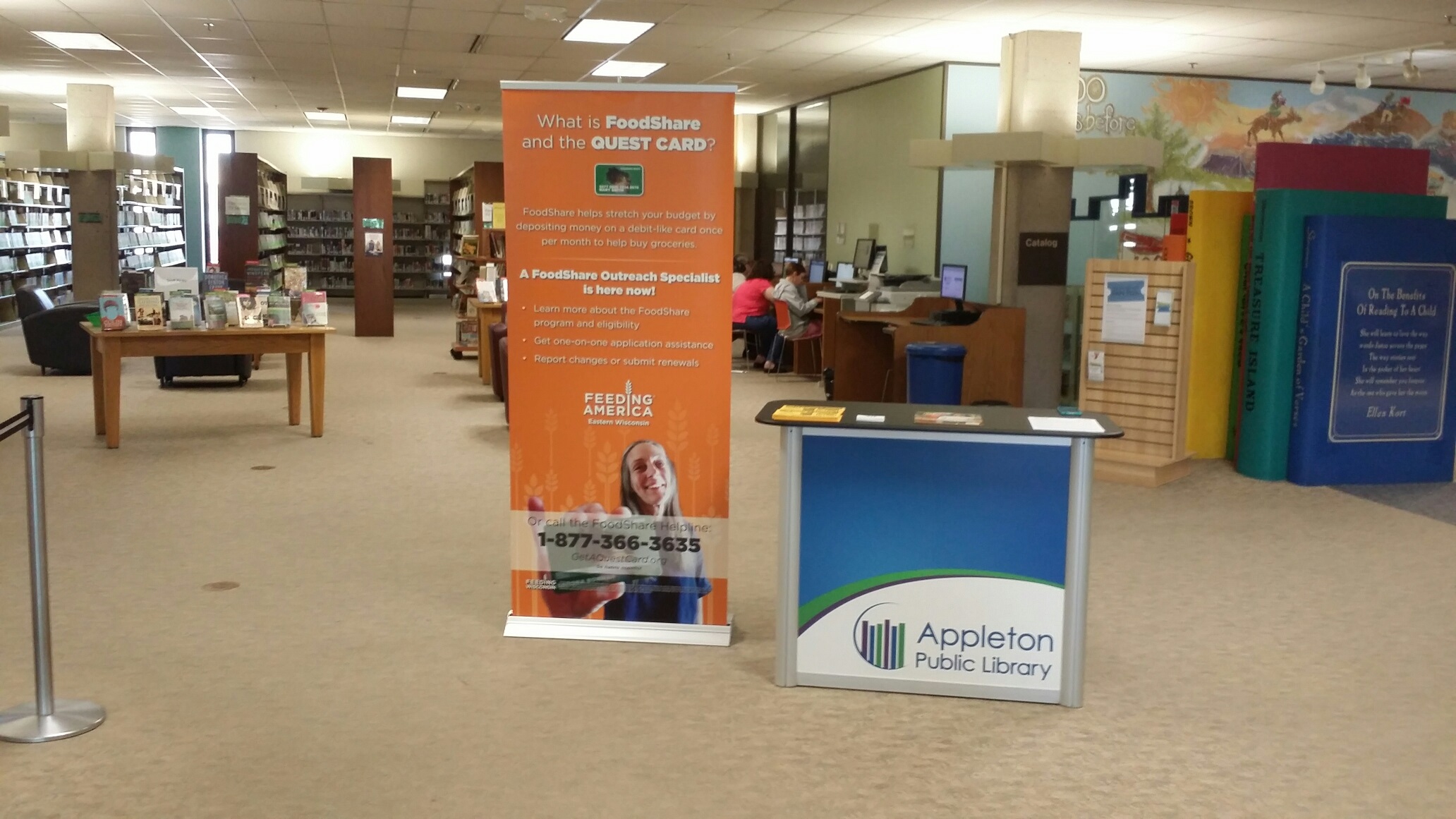 Over the past several months, Andrew, a FoodShare Outreach specialist in Brown, Outagamie, Fond du Lac, and Winnebago counties, has helped of our friends and neighbors, including a family of four struggling to make ends meet, a senior couple living on social security benefits unable to pay for medical bills, and a homeless disabled veteran needing support from his community. Like all outreach specialists, Andrew takes pride in the small, but powerful part they play in applicants' lives by connecting them to resources to purchase food.
Andrew had been regularly providing on-site application assistance at the Appleton Public Library. In May 2016, Betty from Appleton mustered up the courage to talk with Andrew at the library. Betty explained that she was previously on FoodShare, receiving around $190 per month in benefits. However, due to recent changes in FoodShare policies, Betty lost her benefits for non-compliance.
The implementation of the work requirement for Able-Bodied Adults without Dependents (ABAWDs, or more commonly, single adults without children) caused a lot of confusion among FoodShare recipients, including Betty.
Not only was the requirement confusing, Betty had also not received notification that the rules changed because she was homeless and was not receiving mail. Between the rule changes, the stress and hardship of homelessness, and her clinical diagnosis of bi-polar disorder, Betty lost her benefits and was unable to purchase healthy, nutritious food on a regular basis and was hungry.
Andrew spent an hour with Betty. He listened to her story and sorted through the FoodShare policies to determine how best to help her. Andrew discovered that Betty had lost benefits due to the ABAWD policy, which requires single adults without children to work at least 80 hours per month or receive an exemption. Betty was not working and since she did not receive notice, she hadn't applied for an exemption to the rule.
But Betty qualified for a number of exemptions and together, Betty and Andrew called the appropriate state and county offices and explained her situation. Not only was Betty reinstated in the FoodShare program, but she was also eligible for expedited services and was provided a temporary QUEST card that same day.
In learning this good news, Betty was overcome with tears of joy and thankfulness. She was finally able to purchase her own food again. Without Andrew's assistance, Betty may still be without FoodShare and struggling to pay for food.
Our FoodShare specialists know that connecting applicants with resources creates a ripple effect. Now that Betty knows more about the FoodShare program, its rules, and regulations, she has become an advocate herself and is helping her friends learn more about the program.
---
Share this on social media
---
Join the Conversation