COVID-19 Response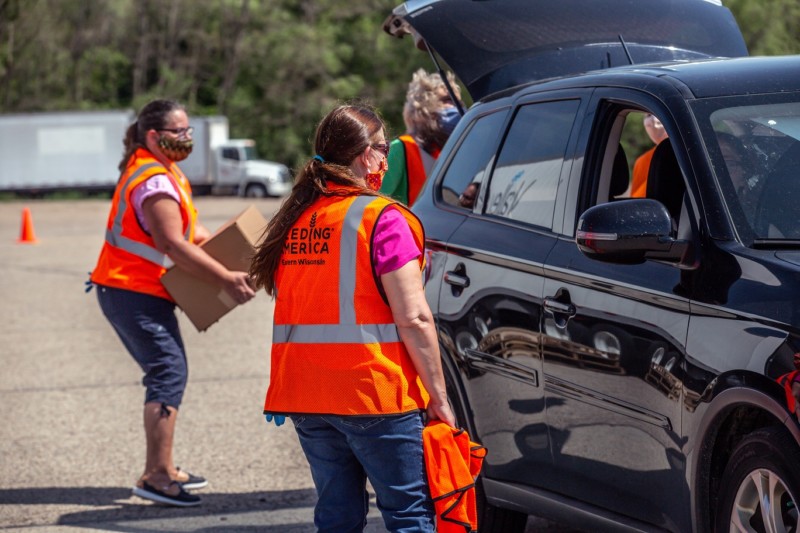 Feeding Wisconsin COVID-19 Network Response
The COVID-19 crisis is creating an unprecedented new food security threat to households in Wisconsin. Our food banks and pantries are experiencing challenges navigating supply and demand. Families who were already food insecure are facing tougher times as they now need to provide breakfast and lunch for their kids who are out of school.
Before the pandemic, food insecurity levels were their lowest in 20 years, with 8.9% of Wisconsinites facing hunger. Feeding America now estimates that about 12.4% or 723,500 Wisconsinites are experiencing hunger. That is an increase of 40% due to COVID-19 and the resulting economic crisis. This includes one in five Wisconsin children who may not know where their next meal is coming from.
Emergency Orders
January 19, 2021 - Gov. Evers Declaring a State of Emergency and Public Health Emergency
January 19, 2021 - Gov. Evers Emergency Order Relating to Stopping the Spread of a New Highly Contagious Variant of COVID-19 by Requiring Face Coverings
Resources
Center for Disease Control and Prevention (CDC): Considerations for Food Pantries and Food Distribution Sites
211 Wisconsin
211 Regional Contact Center Map
COVID-19: Updates for FoodShare and Other Food Benefits
Pandemic SNAP (P-EBT) Application (due by July 31st for families who have not received benefits for all eligible students through systematic distribution of P-EBT).
Feeding Wisconsin FoodShare Outreach Website
Example Return to Work Protocol shared by The Neighbor's Place
TEFAP Documents:
Wisconsin TEFAP no contact protocols for pantries during COVID-19 (updated 6/1/2020)
Wisconsin TEFAP COVID-19 Eligibility (English/Spanish) (Russian) (Hmong)
Wisconsin TEFAP COVID-19 Q&A
Wisconsin TEFAP Winter Food Distribution Instruction (Guidance for distribution November 1, 2020 - April 20, 2021)
TEFAP Winter Food Distribution Survey Results (October 5, 2020)
Preparing your Pantry for COVID-19 Bi-Weekly Calls
What: Join Kitty Kocol (DHS TEFAP) and Stephanie Jung Dorfman (Feeding Wisconsin) for COVID-19 response updates and Q&A. Please send questions to DHSTEFAP@dhs.wisconsin.gov. You can send these in advance or during the time of the call.
The emergence of coronavirus/COVID-19 requires food pantry operators to consider logistics planning and operational changes to best ensure their safe and continued service. This presentation will review practical guidance for staying open while reducing risk. Participants will have an opportunity to ask questions. We expect the call to last 30-60 minutes, based on need.
Call objectives are:
1. To review logistical options for protecting volunteers and the public
2. To consider related questions and challenges facing food pantry operators
When: 2nd and 4th Friday of the month at 10am CST
Join by Phone only (the call will be audio only):
Dial: 267-930-4000
Meeting ID: 904-416-028 # (then when it asks for your participant ID, press "#")
Kick Off Call Recording:
Presentation and Audio Recording
Audio Only Recording
Presentation PDF
Notes from Previous Calls:
Friday, June 26th Notes
Friday, July 10th Notes
Friday, July 24th Notes
Friday, August 14th Notes
Friday, August 28th Notes
Friday, September 11th Notes
Friday, September 25th Notes
Friday, October 9th Notes
Friday, October 23rd Notes
Friday, November 13th Notes
Friday, January 8th, 2021 Notes
Friday, January 22nd, 2021 Notes